The top UK Cities for buy-to-let yields with best postcodes revealed in Birmingham, Sheffield, Liverpool, Manchester and Glasgow
By: James Newland
Property Investors should focus their attention to invest in property areas such as; Glasgow, Manchester, Birmingham, Sheffield and Liverpool, rather than London, given recent research that compares rental returns to property prices.
The locations that deliver the best yields, on properties have been identified as the highest yields on the property portal of Zoopla.
Below are the top 20 buy-to-let hotspots in 2016, Glasgow postcodes featured four times, as did Liverpool postcodes, Sheffield's featured three times and Birmingham and Manchester postcodes twice and London postcodes were featured only once (EC3) due to the City having high property prices.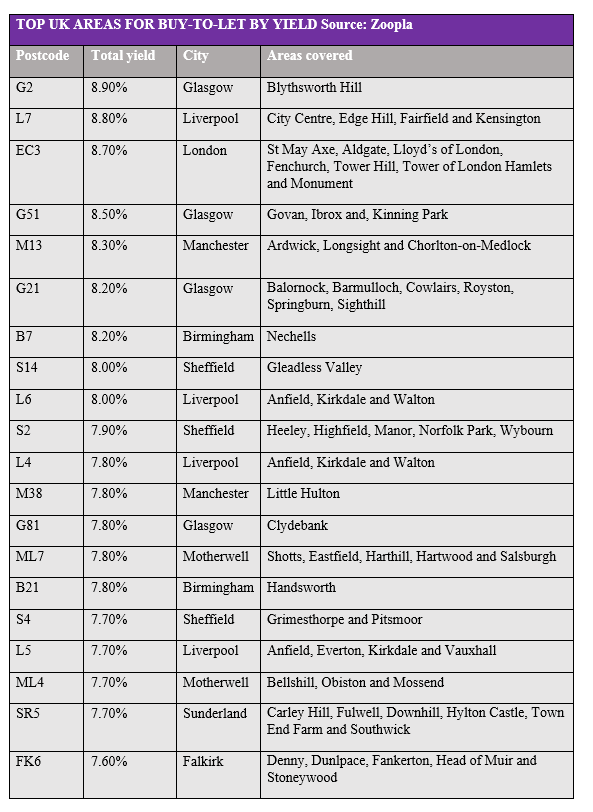 The reason why certain Cities are doing so well is because:
Birmingham has undergone some major reinventions these past few years. There's plenty of development already underway or in the pipeline, including the brand-new high speed Birmingham-to-London train, the HS2, which is expected to attract even more investment to the area. Estate agents believe with the reduced travel time into central London, more people will decide to move to Birmingham. In fact, it is already showing the first signs of a surge in interest – a central Birmingham scheme by Knight Frank sold out within days last year, making it the fastest selling development in the city in years.
Glasgow is a popular city, with a vibrant nightlife, internationally-acclaimed museums and galleries, celebrated architecture and the UK's second largest shopping centre. However, buy-to-let in Edinburgh is getting more expensive and less profitable for property investors, and landlords.
Manchester, had experienced the strongest house price growth in the UK last year. Nationwide found that average prices across 200 postcodes in Greater Manchester doubled, due to the City population growing by over 7% between 2001-2011. As a result, demand for rental property in Manchester is understandably at an all-time high, for investors looking to make a great purchase. Which means rental property is being sold as soon as it becomes available.
Liverpool and Sheffield are the largest university cities in the UK, and Liverpool alone has more than 60,000 students living in the northern city. Which shows that the ready-made target market for wannabe buy-to-let landlords. The growing population of both domestic and international students means there is a continuing demand for new student property investments and in particular high-quality student accommodation.
Source: http://www.thisismoney.co.uk/money/buytolet/article-3160911/The-five-UK-cities-best-postcodes-buy-let-yields.html